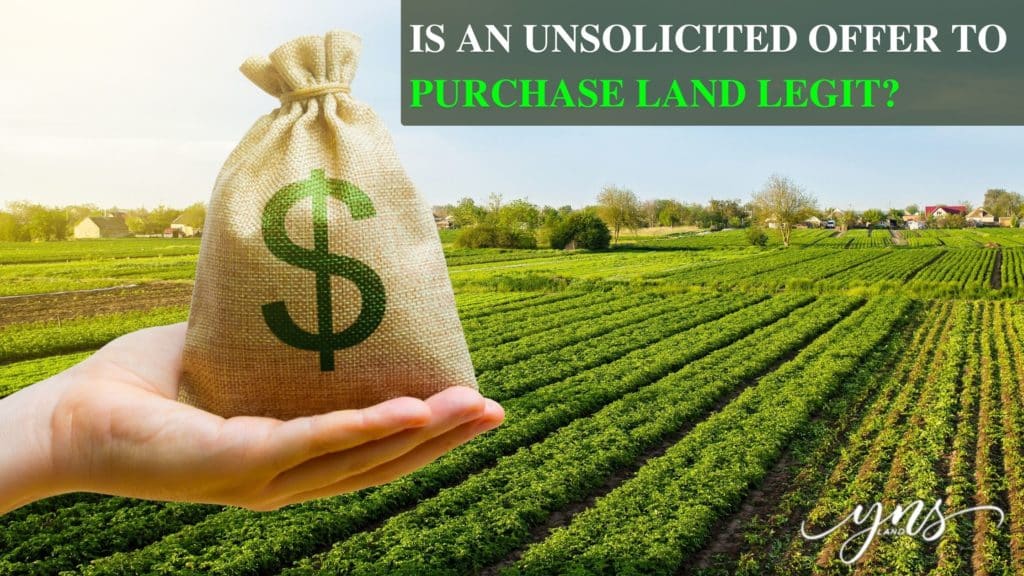 Is An Unsolicited Offer To Purchase Land Legit?
Do you often receive calls, emails, or texts from someone wishing to purchase your land? Have you ever questioned why you keep getting offers about selling your land when you haven't even listed it for sale? If you're unsure about what to do in these situations then you should first understand the meaning of an unsolicited offer.
A proposal made to buy a property from an owner who isn't actually looking for a buyer to sell his property is referred to as an unsolicited offer. While some may think that sounds negative, really all it is is an opportunity for both the land owner and potential buyer.
This offer can be issued by an entrepreneur, financier, or enterprise. If the landowner is reluctant to sell the property, unsolicited offers might occasionally be characterized as hostile approaches. They typically surface when a prospective buyer recognizes the worth of the property and is willing to invest in it.
Reasons Landowners Receive Unsolicited Offers?
Real estate investors searching for properties to acquire, lease, and use it as a tangible investment frequently make spontaneous proposals. The transaction can close swiftly with a cash purchase and without any bidding wars. As a result, investors are in a favorable situation, which motivates them to approach landowners with unsolicited proposals.
Are Unsolicited Offers A Scam?
Generally, unsolicited proposals may appear as deceitful tactics, to those who are not knowledgeable of the process. But the large majority of those are not frauds. In truth, you could generate a profit after completing the deal. However, as with any real estate transaction, you'll need to ensure that the deal yields the outcome you want.
There are other approaches to guard against such scams, such as:
Verification of licenses: Verify whether the individual making the unsolicited offer is a real estate practitioner or not. This will keep you assured that you're engaging with a genuine investor.
Exchange information discreetly: Financial abuse is on the rise. Sharing private data can leave you vulnerable to such kinds of risks. Thus, remember to exchange information related to financial data only and via secure channels.
Would It Be Appropriate To Accept An Unsolicited Offer?
Numerous investors will make you a cash offer with little to no conditions to buy your land. If you've verified the offer and concluded that it comes from a trustworthy source, accepting it could be a simple strategy to sell your property quickly.
While, it's certainly not the greatest offer you'll receive, it comes with its own set of benefits. Investors are keen to generate a profit, so keep in mind that they're offering you at a price to buy it quickly. Making the sale process a breeze and over before you know it. A lot of land can sit on the market for years to get a premium price.
Unsolicited offers: Advantages and Disadvantages
By placing ads on reliable websites, you can sell your land without the help of a realtor. You would have an easy time promoting your land on such websites. It aids in better detailing and accurate documentation. However, there are a few steps you should take before listing your land online:
More than 200 million Americans use it. One of Facebook's exciting and unique features is the 'Marketplace.' It is one of your best options if you want to sell your property without a realtor. Anyone can use Facebook Marketplace to sell their products. The products must exclude alcohol, tobacco, weapons, and animals. Some advantages of using Facebook Marketplace are as follows.
One of the biggest drawbacks is that the purchasers who make these offers frequently request the property at a price that may be  below market value; however it is a much quicker sale that listing the property with a real estate agent.
Unsolicited offers are usually issued by individuals who don't wish to haggle but rather like to have a fast deal.
How to Handle Unsolicited Offers?
Unsolicited offers seem to be more likely to surface in a booming property market. Nevertheless, the volume of unsolicited proposals may drastically decline after the marketplace has stabilized. Gladly. there are certain ways to handle unsolicited proposals in the interim, such as:
Getting an unsolicited offer could either feel like a treat or a violation of your privacy. Therefore, it is always advisable to engage with a knowledgeable company or investor. regardless of whether you decide to accept the offer or not.
By informing you of your land's market value, keep on mind that how fast you want to sell the land will affect the price. You can also use an online land value assessor to get a genuine estimate of your property's current market price.