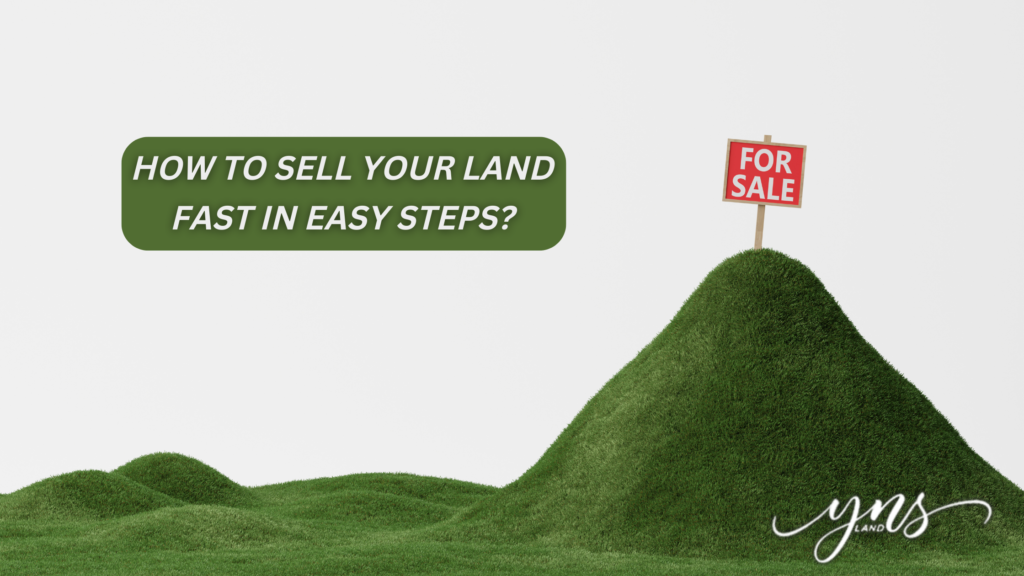 How to Sell Your Land Fast in Easy Steps
The land is a valuable resource. It is a means of earning income above and beyond the cost of the item. There are many methods and techniques that can help you sell your land quickly and easily. Advertising for land sales must be different from that for other real estate investments. After all, it is vacant land, so you need to be more creative with it.

So, are you the one who inherited a piece of land and you are now looking to sell it? If you're concerned about selling fast, this article will provide you a thorough understanding of the subject.

Before getting started, one important thing to remember is that selling land is very different than selling a house. Keep reading to learn tried-and-true methods for selling land quickly and easily:
#1. Acquire Market Knowledge
Conducting thorough market research is the first step. Create a thorough picture of it and consider how the current market will be of use to you. Set the price based on where your land is located and how much the area is worth. Try to do some surveys on nearby properties. You can use this to compare your land to others' and get a general notion of what to anticipate.
Now, when you are done with enough market research, it's time to decide the value of your vacant land. It is suggested to keep the value slightly less than the market value. If you are in a hurry and want to sell your land, this tip works. Despite the property being available in a prime location, most people find it difficult to sell it and hence raise a query on how to sell their land fast. The answer is highly set value properties usually take time to sell. You either need to have patience or for getting a quick sale, price your land similar to others or slightly less than that.
#3. Get Noticed to Your Neighbours:
This is yet an easiest way to market your property and get the buyer. Your neighbors are the best prospects, despite the fact that this seems pretty weird. Make an effort to inform your neighbours about the property you are selling. Inform them directly about the vacant land you have. There is a good probability that your information can be given to someone they know if they are not in need.
#4. Renovate Your Property:
Confused? But this is also a vital piece of advice for selling undeveloped land quickly. Land that is attractive has the potential to draw buyers. Therefore, it is imperative to improve your land by clearing out any unkempt regions. To improve the aesthetics of the property, remove all undesirable trees, bushes, twigs, and grasses. To further improve the appearance of your land, you can grow wildflowers there.
#5. Advertise As Much as You Can:
There was a time when a simple "For sale" sign would go a long way toward selling the land. You must now do considerably more effort for it in the present day. Make sure you are increasing your exposure if you want to sell your land quickly. List your property for a small fee on a number of listing websites to watch how quickly it gains attention.
#6. Provide Correct Details:
The majority of sellers overlook this important step. Giving the right information about your property might encourage potential buyers to contact you quickly. You must provide particular details about the type of land you are selling. Indicate to the buyer if your land is best suited for residential or commercial use, as well as how good the access to your site is.
#7. Always be Ready to Show Your Land to Buyers:
For selling a house, this should be rather obvious. But the majority of people overlook how crucial it is to show potential purchasers the property. To succeed as a salesperson, you must demonstrate the property, the area, and other crucial elements.
#8. Try Working with Professionals:
Your land selling journey will go a lot more smoothly if you have an experienced real estate agent at your side. Wondering why that is? It is because these experts have a lot of exposure to selling land and are quite seasoned. They have a wealth of client-working experience. Working with them will provide you the assurance that, with their advice, you will make the fewest mistakes.
#9. Have Proper Documentation:
This is crucial and will speed up the prospective buyer's land purchase procedure. Check to see if your title deed is in order because the owner's identity will always be a concern for the buyer. Aside from that, make sure to save these documents if you paid any fees for land. These will be needed when making a purchase.
Selling your land fast is not always easy as it requires adequate research on the market and various tricks to lure buyers for making a purchase. Although, it is possible and adhering to the above tips will maximize the chances of selling your land fast.